Door Hardware Parts & Types
McKinney Door Solutions has provided reliable door hardware to business owners, contractors, and developers for more than 50 years. Our background in construction combined with our ability to tackle complex projects and our partnership with large commercial companies continues to build McKinney Door Solutions' reputation and credibility. If you need assistance determining which products would be the best fit for your application, please contact us and our expert team will point you in the right direction.
Types of Architectural Hardware
Exit Devices and Panic Bars
We offer a wide range of products carefully designed to provide safety where it's needed most. Our selection of exit device hardware (crash bars, touch bars, push bars) unites form and function. Exit hardware with door closers protects any building or dwelling from fire, smoke, and more. 
Commercial Locks: Deadbolt Locks and Locksets
High-traffic businesses need commercial locks designed to withstand heavy use. Our wide range of lock solutions includes door closers, deadbolts, handles, and all types of locksets. Choose from trusted brands, including Schlage, LCN, Sargent, Falcon, Hager and many more.
Door Closers and Closer Arms
Reduce heating and cooling costs by installing door closers, mechanical devices that close doors in a safe and controlled manner. Ideal for schools and retail stores, door closers help prevent doors from standing open, slamming, or pulling open in strong winds. A good door closer ensures that a commercial door closes smoothly and quietly every time, keeping interior spaces secure while preventing energy loss.
McKinney Door Solutions' top-of-the-line selection of commercial door handles will protect and secure your space. Available in a wide range of styles and finishes, our door handles will match your project's unique needs. Our team of experts is always available to help you find a handle that unites performance and aesthetics that match your space.
ADA-compliant automatic door operators provide a safe and easy way for all customers to enter and exit a commercial space. Accessibility is essential, and McKinney Door Solutions' selection of door operators will get you there. Trusted brands like LCN, Falcon, Norton, and Dorma offer a wide variety of options to fit your space's unique needs.
Electric strikes are access control devices that promote a higher level of building security. They offer several benefits over traditional fixed-strike faceplates, including keyless entry. Electric strikes are also tamper-resistant and ideal for use in high-traffic areas.
Security is vital for any business, and our cylinders and keys help ensure your facility is well protected. Our cylinders are made of high-quality materials and come in various sizes and styles to fit your needs. Our varied keying options provide a range of security, durability, and quality levels, letting you determine the right fit for your space.
ands-free door hardware enables easy ingress and egress of commercial buildings. Push-pull hardware from brands like Ives, Rockwood, and Trimco simplify door opening, which is ideal for transporting items. We also offer a wide selection of door pulls and ladder pulls.
Thresholds, Weatherstrip, and Seals
We offer thresholds, jamb weatherstrip sets, press-on smoke seals, rain drip caps, door sweeps, and meeting astragals for any door application. Our products provide positive pressure solutions to ensure doors remain weatherproof and energy efficient.
Hinges are crucial components of any door, ensuring alignment and proper function. Robust mortise hinges are ideal for heavy doors, while spring hinges are perfect for doors that need to open quickly. McKinney Door Solutions offers hinges in virtually any size, style, and finish, tailored to fit your application.
Pivot doors provide a sleek, modern look and feel. Our durable commercial storefront door pivots and hinges are made from high-quality materials — and are built to last. Our pivots are easy to install, and come in varied styles to suit your needs. From single-door pivots to double-door hinges, our hardware is designed to provide optimal function for your pivot door.
Improve the function of your commercial doors with McKinney Door Solutions' door stops, holders, or catches. Our hardware can support the heaviest metal doors.
Magnetic Locks and Holders
Magnetic locks use electromagnetic technology to keep buildings secure. Strong and durable, magnetic lock and holders offer a firm hold and are easy-to-use.
Improve your building's security by preventing unauthorized exits or entries. Exit alarms are triggered when doors are opened, emitting a loud sound. Our alarms are easy to install, and are compatible with a wide range of door types.
Protection Plates and Kickplates
Commercial door kick plates protect doors from scuffs, scrapes, and other damage. Made of durable stainless steel, they can be installed on any type of door – and will help it look like new for years to come. Various sizes and styles are available.
Latch protectors increase door security by helping to protect against forced entry via prying and shimmying. McKinney Door Solutions' trusted brands, including Don-Jo, Ives, Rockwood, and Trimco, offer a variety of latch guards to help deter would-be intruders.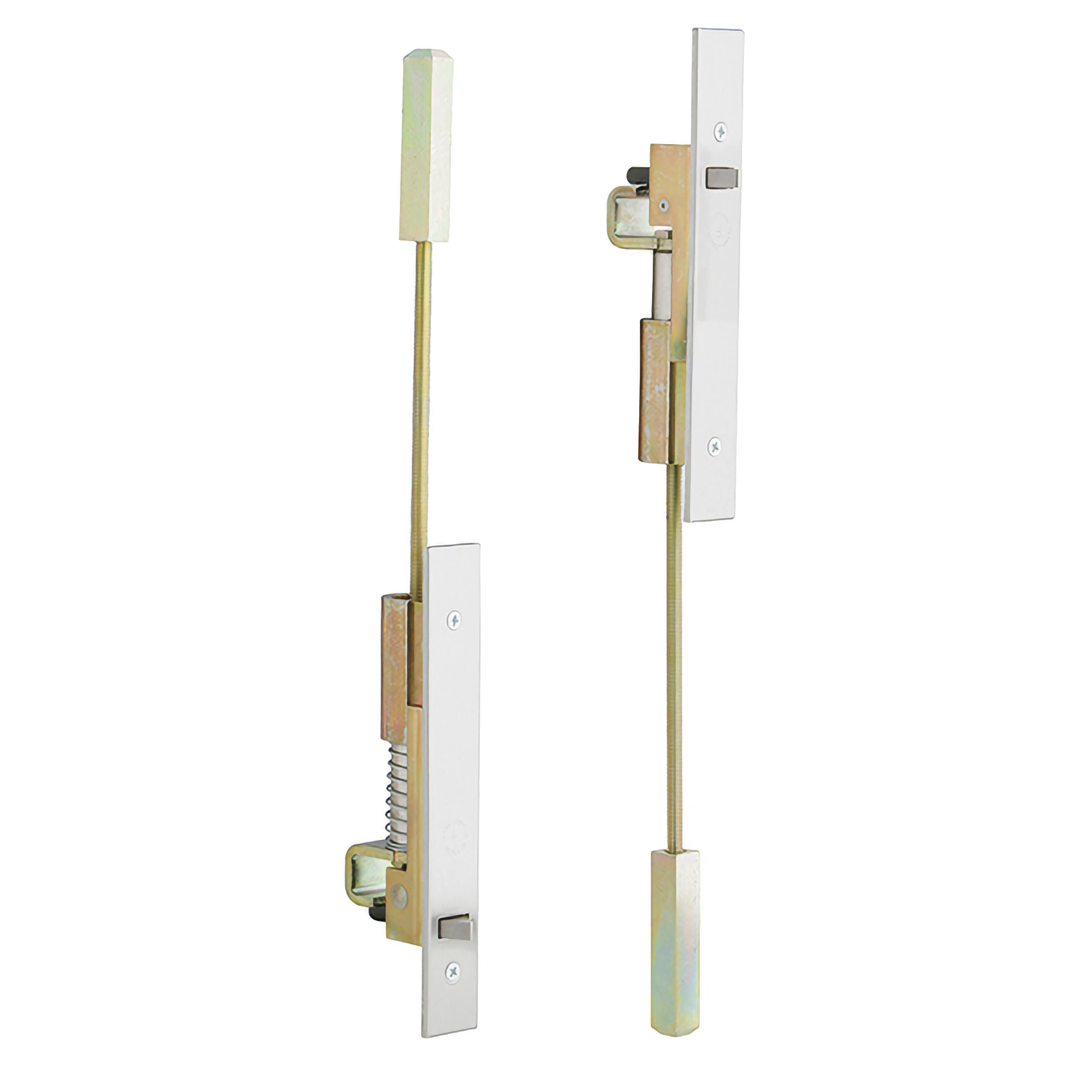 Flush Bolts and Coordinators
Flush bolts and strikes can help stabilize commercial doors by securing a door that is typically inactive. ABH, Cal-Royal, Ives, Rockwood, and Trimco all make high-quality products that provide years of trouble-free use. Flush bolts and strikes are available in both manual and automatic versions, and can be outfitted with coordinating accessories.
Electrical Products and Parts
McKinney Door Solutions offers a full complement of high-quality electrical products and parts for commercial doors. Top brands like Von Duprin, RCI, and ABH, will ensure you receive the most reliable power transfer, power supply, and door loop.
Miscellaneous Hardware and Accessories
McKinney Door Solutions can add an extra layer of protection and security to your commercial doors with a wide selection of surface bolts, mail slots, door viewers, finger guards, and more. Improve security and safety, while ensuring your doors are up to code.
Sliding Door & Barn Door Hardware
High-end sliding doors and barn door solutions can add extra personality and charm. Stylish and functional, sliding door and barn door hardware is ideal for tight spaces where traditional door installation is impossible or undesirable. Sliding doors solutions can also save space when designing new spaces.
Supplying the Best Commercial Door Hardware Brands in America
We supply all major brands including:
ABH • Adams Rite • Air Louvers • Alarm Controls • Alarm Lock • Arrow • Babcock Davis • Best • Bobrick • Bommer • Cal-Royal • Corbin Russwin • CRP Securities • Design Hardware • Detex • Don-Jo • Doormerica • Dormakaba • Dynalock • Entrematic • Falcon • Fastrac Supply • Folger Adam • Glynn Johnson • Hager • HES • HPC Kekabs • Ilco • Ives • Keysure • LCN • Locknetics • Markar • Markar Architectural Products • McKinney • Medeco Security Locks • Moen • National Guard Products (NGP) • Norton • Pemko • Precision Hardware • Qualified • RCI • Rixson • Rockwood • Roton • Rutherford Controls • Sargent • Schlage • SDC • Securitron • Select Hinges • Serenity Sliding Door Systems • SOSS • Stanley • Trimco • Von Duprin • Yale • Zero